Commemorating the longest night of the year, we will come together with members of New York's Iranian community in the name of freedom at the Bridge & Tunnel Gallery—an interdisciplinary hub, offering the often-marginalized creatives a generous space to connect, exchange thoughts, and tell stories.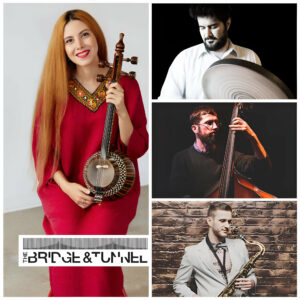 This timely fundraiser at the Bridge & Tunnel Gallery will include heart-warming Iranian and folk music by Mehrnam Rastegari (vocal and kamancheh), accompanied by Martin Shamoonpour (percussion), Daro Behroozi (woodwinds), ), John Murchison (qanun, bass), Maryam Arvanaghi (Piano), and Rene Saheb (Visual/Video Illustrations). The night will feature Iranian traditional/folk music, including Kurdish songs, in memory of the lives of many who lost their lives for demanding basic human rights and their senseless murder by the Islamic Republic regime.
The gathering will be dedicated to the freedom fighters in Iran, who, despite the brutal crackdowns and senseless killings by their fascist regimes, continue to demand their basic human rights. Coinciding with the closing of the gallery's current show—silence/d, curated by Sanam Samanian, and in promotional partnership with Brooklyn Maqam, dedicated to fostering community engagement with Middle Eastern music.
This event aims to raise awareness about the Iranian artists/activists at the center of the ongoing revolution in light of the recent uprisings; All Donors' contributions will be donated to the new project of the nonprofit organization, Artistic Freedom Initiative (AFI), titled Iranian Artists Support Project (IASP), designed to assist Iranian at risk artists/activists relocate to safety (see ticket options for more information).